ITALY TOUR


Amalfi Coast • Rome • Tuscany


Saturday, Oct. 5 - Thursday, Oct. 17, 2024


Amalfi Coast: Pompei, Sorrento, Capri Island, Amalfi, Caserta, ...
Rome: Colosseum, Roman Forum, Palatine Hill, Vatican, Sistine Chapel, ...
Tuscany: Chianti, Montecatini, Florence Pisa, Lucca, Cinque Terre, ...


$3,695 - ALL INCLUSIVE
$4,795 with Boston Flights*

Superior Hotels • Breakfasts • Dinners • Local Guides • All Tours & Events Secure your spot with a $495 deposit
Package Details
Truly All Inclusive - All Tours, Entrance Fees & Events
(no up-sell or additional costs)
Excellent 4☆ Hotels in great locations:
Breakfasts and dinner included.
All entrance tickets, guides, dinners and events are included, no up-sell, hidden extras or additional costs!
Plenty of time to venture out, explore and enjoy.
All guided tours in English by multiple certified local expert guilds
Truly awesome sightseeing itinerary, all included:
Amalfi Coast: Sorrento 4 Nights
Ancient Pompeii Excavations Tour (Eruption of Mount Vesuvius)
Royal Palace Caserta tour
Cruise to and guided tour of the island of Capri
Guided tour exploring the Amalfi Coast including Positano, Vietri sul mare and more!
Wine tasing and lunch on the slopes of Mount Vesuvius
Rome: 3 Nights
Vatican tours; including the Vatican Museums & Sistine Chapel
Ancient Rome tours; Colosseum, Roman Forum, Palatine Hill, Squares, Fountains and more!
Two Dinners and a show at local restaurants
Tuscany: 4 Nights
Chianti wine tasting & lunch
Siena, Palio guided tour
Florence's Duomo, Piazza della Signoria, Ponte Vecchio, Accademia Gallery and the David
Pisa and the iconic Leaning Tower, Pisa Baptistry and Camposanto Monumentale
Lucca and it's elegant Tuscan town centre
Cinque Terre with boat ride to view the villages!
Price based on double occupancy. Limited number of single occupancy rooms available.
Group round trip international air Boston, USA to Italy option*
OR purchase your own flights
A $495 deposit and $50 2023 club membership, required to reserve your spot.
Multiple payment options including a payment plan option with final payment due July 2024.
Manage every detail of your reservations on-line through your membership account.
Payments by check, bank transfer, Zelle/on-line or at any Bank of America.

Call 888.828.0096 or email any time (7 days) for more details.
Agenda & Events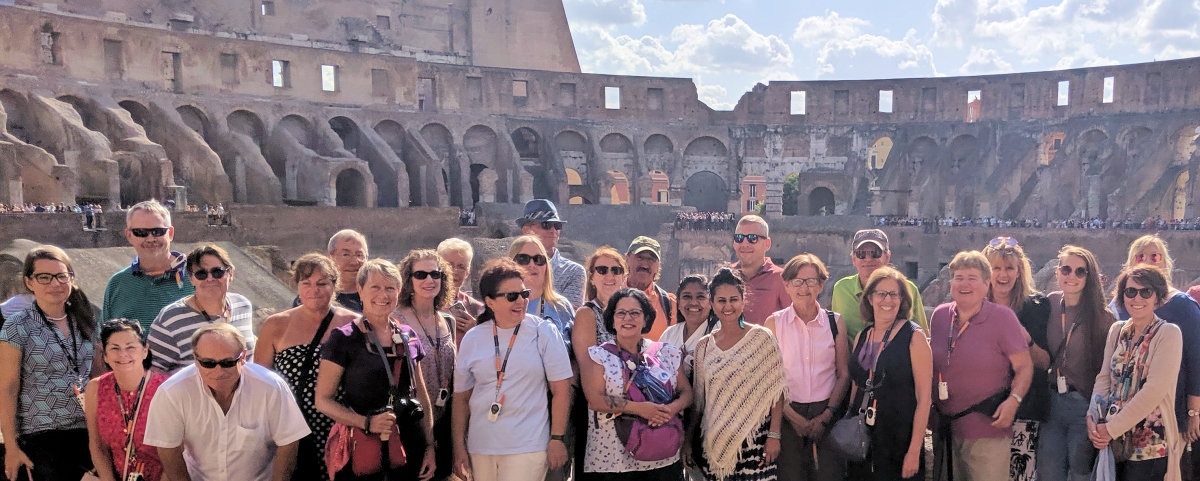 SATURDAY: Depart from the USA Oct. 5, 2024

If you are traveling from Boston on our group flights, we will meet in Logan Airport Terminal E Saturday evening. You will be checked in to tour and for your flight. You will receive your SWAG items which included personalized heave duty luggage tags for your bags.
If you are on our group flights from Boston, we arrive in Rome, Italy after our overnight flight from the USA.
If you are not on our group flights from Boston, you will meet the group and our guide at Naples/NAP airport, terminal one arrivals at 1:55 PM. You can arrive on any flight arriving before 2:30pm or if you are already in Italy make your way to Naples Airport, arrivals, to meet our group.
Sorrento
We will meet our Italian guide and travel to our hotel in in Sorrento enjoying the sights and scenery along the way. We check in, relax and enjoy our hotel before our first dinner together. For the energetic and adventurous we can venture out for a preview of Sorrento which you will enjoy for the next three days from our hotel on the bay of Naples.
Your Sorrento experience promises four nights of unparalleled beauty and culture. Stay at the Hotel Minerva Palace, a bastion of elegance and comfort, offering breathtaking views of the Mediterranean and convenient access to the vibrant heart of Sorrento. Here, historic sites, bustling markets, and charming cafes await your exploration. The hotel's terrace and luxurious accommodations provide a serene retreat after our daily tours and adventures!
Today we depart for an unforgettable excursion to Capri Island by boat, a full day visiting and admiring the natural beauty and the charming atmosphere: the Augustus Gardens, the famous Piazzetta and more. We have a guided tour by mini-bus on the island.
We enjoy a full day with a guided tour exploring the Amalfi coast, enjoying magnificent views of Positano and other picturesque fishing villages. In Amalfi we enjoy a walking tour through its pretty streets arriving to the 10th-century Duomo with its colorful facade. We continue until Vietri sul mare for a visit at the small village famous for its Majolica pottery.
Boat ride from Amalfi to Maiori and lunch at at a trattoria in Amalfi included!
We visit Pompeii for a guided visit of the excavations of this ancient Roman city, famous for being preserved in ash after the eruption of Mount Vesuvius in 79 AD. We explore the ruins of the city and learn about the daily lives of the people who lived there.
After our tour we enjoy a wine tasting and lunch at a local winery on the Vesuvius slopes!
Enjoy our trip to and tour of Caserta for a guided visit of the Royal Palace of Caserta and its gardens, a UNESCO World Heritage site.
We arrive at the Hotel American Palace, which blends modern luxury with classic Roman charm. Located in the heart of Rome, this hotel is a perfect base for exploring iconic landmarks and is also a short walk from transportation if you want to adventure out independently or explore an alternate itinerary. The Hotel American Palace, with its elegant rooms and attentive service, offers a tranquil haven amidst the vibrant urban energy of Rome, setting the stage for an enriching and memorable Rome experience.
This morning we enjoy our guided tour of ancient Rome, including Colosseum, Roman Forum AND Palatine Hill. We recommend you read about Rome before your trip as it is packed with ancient history especially the Roman Forum, think of it as main street Rome of ancient times!

In the afternoon we will explore the heart of Rome with our guide: Navona Square, Trevi Fountain, Spanish Steps, Pantheon, Campo de' Fiori, Farnese Square and more.
We will enjoy dinner tonight at a Trastevere district restaurant (instead of hotel).
We spend our morning on a tour of the Vatican City and the Vatican Museum, Sistine Chapel and St. Peter Basilica. The tour starts from Vatican Museums entering the Pinecone Courtyard, crossing the collection of Greek and Roman sculpture, where we can admire the famous statue of Apollo, the Laocoon and the Belvedere Torso, the statues of animals, the Coffins of St. Helen and St. Constance, the Galleries of Tapestries and the frescoed Maps of all Italy painted in 1585. We will pass through rooms painted by Raphael and his pupils, ending with the amazing Michelangelo's Sistine Chapel!
We visit the highest temple of Christendom: St. Peter's Basilica with the Pietà by Michelangelo, the Jubilee Gate, Bernini's main altar, the staircase enlightened by eternal lamps leading to the tomb of Saint Peter.
We will enjoy dinner and a show tonight at a local restaurant (instead of hotel).
On Sunday, we embark on a picturesque journey towards Tuscany, a region renowned for its rolling hills, vineyards, and rich history. Our day begins with a delightful visit to the Chianti region, famous for its superb wines. Here, we'll indulge in wine tasting and lunch at a local winery, immersing ourselves in the flavors of Tuscany.
The adventure continues to Siena, known for its historic "Palio" horse race and well-preserved medieval town center. Enjoy a guided tour of this charming city, exploring its winding streets and historic sites.
Our day concludes as you arrive in Montecatini, a beautiful Tuscan town. Here, we'll spend the next four nights, allowing ample time to explore and appreciate the serene beauty of Tuscany!
We visit Florence and its famous landmarks, notably Il Duomo, Piazza della Signoria and Ponte Vecchio. Enjoy the visit at the Accademia Gallery and admire the famous « David » a masterpiece from Michelangelo. Spend the afternoon exploring Florence at your leisure.
We travel to Pisa and visit the iconic Leaning Tower (outside visit), Pisa Baptistry and Camposanto Monumentale.
In the afternoon we enjoy a guided tour of Lucca and it's elegant Tuscan town centre.
Today we explore the picturesque Cinque Terre National Park. We follow the coast of La Spezia, then set out to explore the village of Riomaggiore and Vernazza at our own pace. Hop on a boat and set foot in the fishing village of Monterosso before returning by train to La Spezia.

THURSDAY: Departure from Florence Airport Oct 17, 2024

After breakfast, we will get our coach to Florence / FLR airport and check-in for our flights. Those leaving on our group flights from Boston will arrive back in the USA same day, Thursday evening.
Hotels & Resorts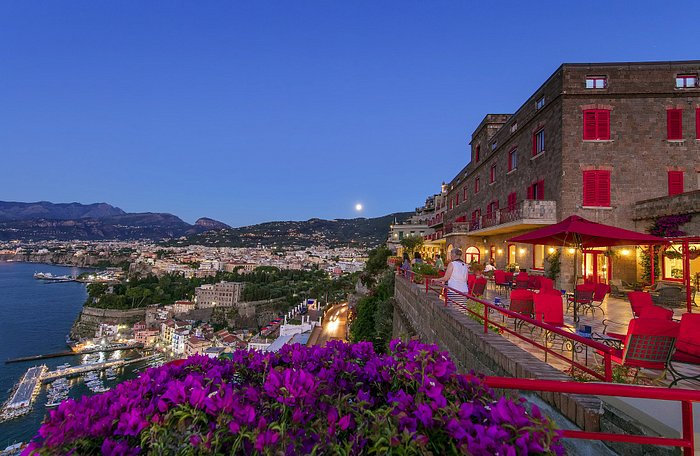 Hotel Minerva Palace - Sorrento
The Hotel Minerva Palace in Sorrento is a haven of elegance and comfort. Nestled atop cliffs overlooking the azure Mediterranean, this hotel provides breathtaking views and an ambiance of serene luxury. Just steps away from the vibrant heart of Sorrento, guests can easily explore historic sites, bustling markets, and charming cafes. The hotel itself, boasting a splendid terrace and refined accommodations, is a perfect retreat after a day of discovery. Whether wandering through the ancient streets of Sorrento, or enjoying a sunset over the sea, the Hotel Minerva Palace is an ideal base for an authentic Italian experience on the bay of Naples.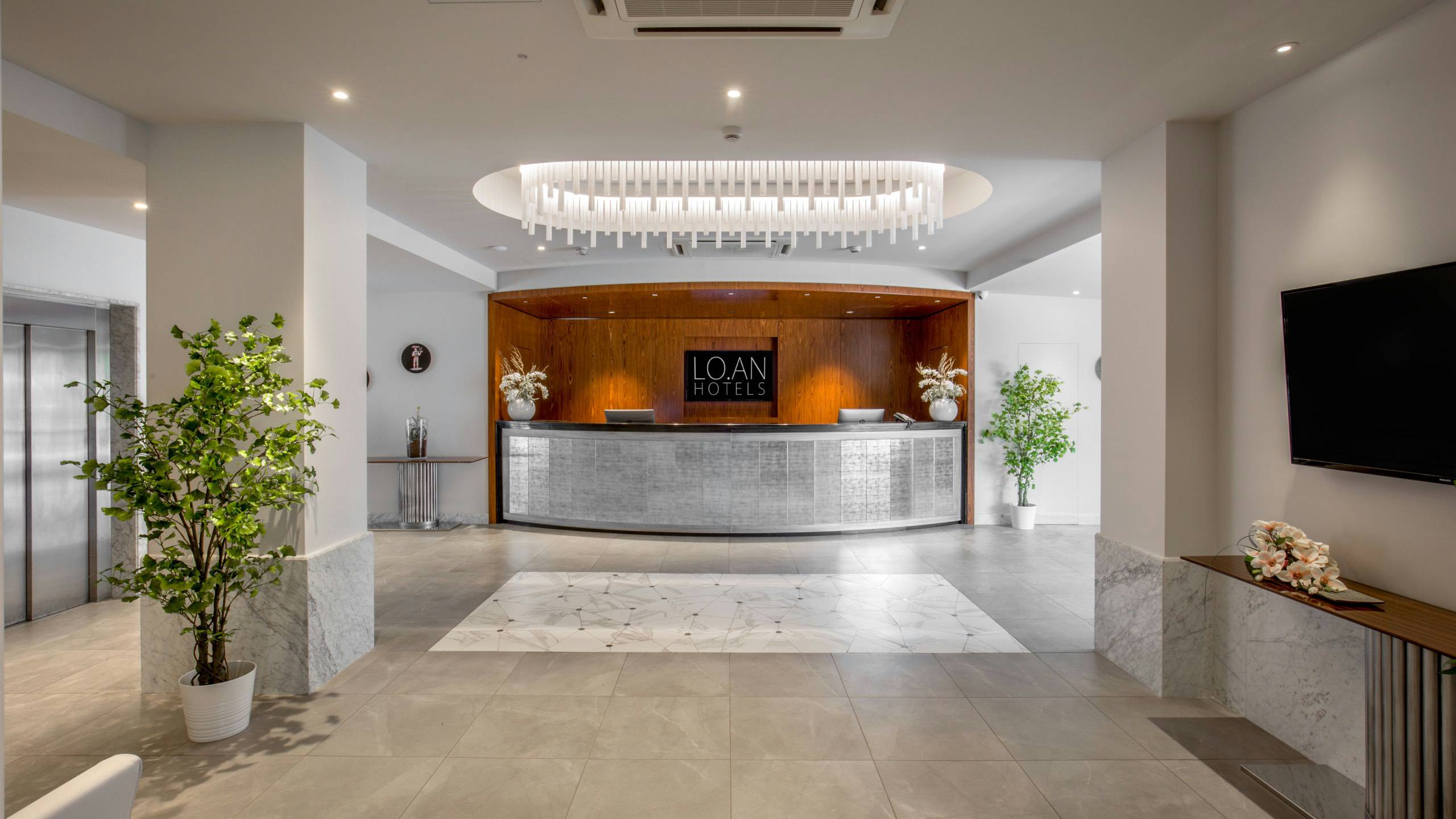 Hotel American Palace - Rome
Situated in the bustling heart of Rome, the Hotel American Palace offers a perfect blend of modern amenities and classic Roman charm. As a gateway to the eternal city's rich history and culture, guests can immerse themselves in a world of ancient architecture and art, with the Colosseum, Roman Forum, and Vatican City all within easy reach. The hotel itself provides a peaceful and stylish respite from the urban energy. With its elegant rooms and attentive service, the Hotel American Palace is not just a place to stay but a part of your Roman adventure, embodying the city's timeless appeal and vibrant modern life. Our hotel offers convenience and comfort, ensuring a memorable stay as you delve into the rich tapestry of Rome.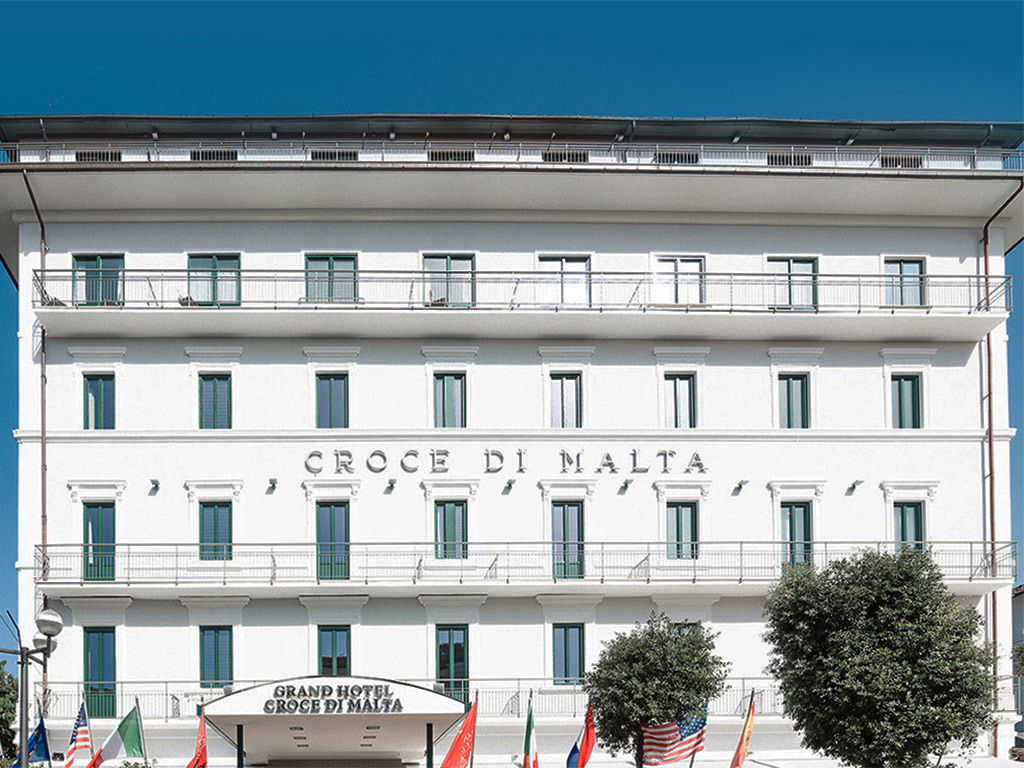 Grand Hotel Croce di Malta - Montecatini
The Hotel Croce di Malta, located in the tranquil Tuscan town of Montecatini Terme, offers a peaceful yet luxurious stay. Surrounded by the picturesque landscapes of Tuscany, the hotel is a stone's throw away from renowned spa facilities, historic sites, and culinary delights. It serves as a perfect base for exploring nearby Tuscan gems like Florence's artistic treasures, Siena's medieval charm, and Pisa's iconic leaning tower. The hotel itself, with its elegant design and top-notch amenities, mirrors the beauty and richness of the Tuscan countryside. Whether relaxing in its refined rooms or exploring the rolling hills and historic cities of Tuscany, the Hotel Croce di Malta promises a truly enchanting Italian experience.
Group Flights on Swiss
Group Swiss Air Flights: Boston <-> Italy
Option for discounted club group flights on Swiss Airlines and travel with our group from Boston, OR purchase our land package and book flights yourself (points, miles, discounts, extend your trip, etc. Kayak) and meet us in Naples airport. Final meet up and transfers are from the airport and match our group flight arrival.
All group flights include one checked bag (50lb), a carry-on/roller bag and a personal item (pocketbook/laptop, etc.).
Flights from the USA to Europe are overnight flights. Flights from Europe to the USA are same day. Italy is six hours ahead of EST.
Boston: Check-in with the club at Logan Airport Terminal E at 7PM.
DATES
DEPARTURE
ARRIVAL
FLIGHTS
Amalfi • Rome • Tuscany
5-17 Oct. 2024
Sat 05 Oct 2024
Boston 9:50 PM
Naples 1:55 PM
LX053 - LX1710
Thu 17 Oct 2024
Florence 2:35 PM
Boston 8:05 PM
LX1675 - LX052
Why Choose This Tour?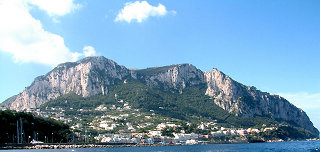 As a club we have had more tours of Italy than any other (more than Ireland 😉). Many would say it's our favorite destination with so much variety and experiences, we've been enjoying tours in Italy for over fifteen years. As with all our tours, it is truly "All Inclusive". Your only extra expense would be lunch (two included) if you choose, as all breakfasts, dinners, entrance fees, events and tours are included. There's no "up-sell", upgrades or hidden expenses whatsoever. If it's good and worth doing, we included it, as everyone's special on our tours!
The last time with enjoyed this tour was September 2023. This tour builds on our experience with what we enjoyed the most, adds a Tuscany option and a reorganized agenda with more guided tours and excellent destination hotels in great locations.
Like previous Italy tours, we have multiple guided tours by licensed expert guides, all included.
Nice hotels in great locations including spending four nights on the Bay of Naples!
Amazing value at $x,xxx for our land package, in select destination hotels with great meals, tours and events, all included.
A truly awesome itinerary & agenda, optimizing our Italy experience, with the best of the best, all included!
Should your wish to get your own flights, you can easily join our tour in Naples or Rome airport.
Plenty of time for exploring on your own or with the club, experiencing the local culture and sights.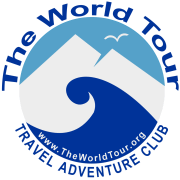 The World Tour
Travel Adventure Club

(888) 828-0096
Boston | New York

E-mail or Call 7 days a week!

Awesome International Club Trips Since 2000!
The World Tour - Travel Adventure Club, LLC
© Copyright 2023. All rights reserved.