Historic Europe Five Country Tour
Prague, Czech Republic • Dresden, Germany • Vienna, Austria
Bratislava, Slovakia • Budapest, Hungary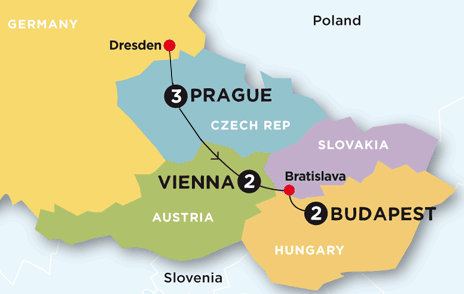 Wednesday, Sep. 27 - Thursday, Oct. 5, 2023
$2,295 - ALL INCLUSIVE
$3,195 with Boston Flights*
Secure your spot with a $495 deposit
Package Details
Truly All Inclusive - All Tours, Entrance Fees & Events
(no up-sell or additional costs)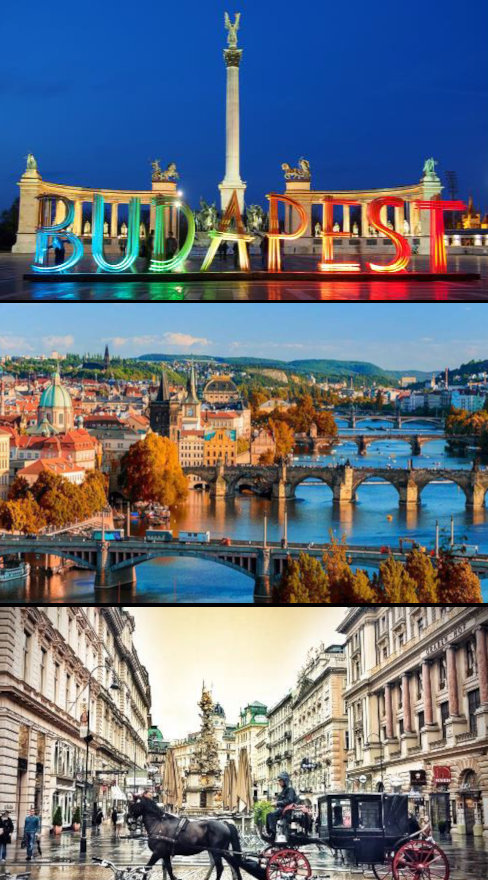 Excellent hotels in great locations:

• Prague: Rott Hotel
• Vienna: Austria Trend Hotel Ananas
• Budapest: Hotel Opera
Breakfasts and dinner included.
All entrance tickets, guides, dinners and events are included- no up-sell, hidden extras or additional costs!
Plenty of time to venture out, explore and enjoy.
Truly awesome sightseeing five country itinerary, the best, all included:
Guided tours in English by multiple certified expert guilds:
Prague, Dresden, Vienna, Bratislava, & Budapest
Prague Crystal Dinner Cruise
Schonbrunn Palace, including Strudel show
Vienna Mozart Concert & Dinner>
Budapest River Cruise
Budapest Folklore evening including gala dinner & performance
and more all included!
Price based on double occupancy. Limited number of single occupancy rooms available.
Group round trip international air from Boston, USA option*
OR purchase your own flights, (Kayak points, frequent flyer miles, etc. ) and meet in Prague Airport on arrival ($2,295 tour without flights).
Easily join our tour from your USA flights, or pre-tour extension.
Club Group Flights, Checked Bag-luggage, etc. *$900:

Depart Boston Logan, Wednesday night 27-Sep. Arrive Prague Thursday
• LH 421 27-SEP BOS > FRA 10:00pm Depart Boston
• LH1396 28-SEP FRA > PRG 2:20pm Arrival Prague

Return Budapest, Thursday 5-Oct. Arrive Boston Thursday
• LH1399 5-OCT BUD > FRA 2:25pm Departure Budapest
• LH 420 5-OCT FRA > BOS 8:35pm Arrival Boston
FYI: The distance for our five country literary from Dresden to Budapest is less than 600 miles by highway! Considered one on the most interesting, historic, beautifully and by many the ultimate, sightseeing tour agenda in central Europe.
A $495 deposit and $50 2023 club membership, required to reserve your spot.
Multiple payment options including a payment plan option with final payment due July 2023.
Manage every detail of your reservations on-line through your membership account.
Payments by check, card, bank transfer, Zelle/on-line or at any Bank of America.

Call 888.828.0096 or email any time (7 days) for more details.
Agenda & Events
WEDNESDAY; Day 0: Depart from the USA

If you are traveling from Boston on our group flights, we will meet in Logan Airport Terminal E Wednesday evening. Meet our group and check-in for our tour and for your flight.

THURSDAY; Day 1: Arrival in Prague

If you are on our group flights from Boston, we arrive in Prague after our overnight flight from the USA.
If you are not on our group flights from Boston, you will meet the group and our guide at Prague airport, T2 arrivals at 2:30PM. You can arrive on any flight arriving before 2:30pm or if you are already in Prague make your way to Terminal two arrivals to meet our group.
We will meet our tour director and travel to our hotel in Prague. We check in, relax and enjoy our hotel before our first dinner together. For the energetic and adventurous we can venture out for a preview of Prague.

FRIDAY; Day 2: Explore Prague & Dinner Cruise

Today we'll enjoy a fantastic guided tour of Prague where we get to know one of Europe's most beautiful capitals, which has miraculously survived the turbulent centuries unscathed. Our guided walking tour will introduce the exquisite Old Town (Staré Mesto), the city's heart since the 13th-century, then we cross the River Vlatva by the famous cobbled Charles Bridge, with its blackened statues, into the steeply sloping left bank. Here, the Hradcany district is dominated by the imposing mass of Prague's ancient castle. Beneath this magnificent building, home to great St Vitus' Cathedral and the historic Royal Palace, are the narrow, sloping cobbled streets of Malá Strana, the Little Quarter. After our tour, we'll have the rest of the day free to explore at our leisure.

This evening, we'll enjoy our dinner cruise on the Vltava river!

SATURDAY; Day 3: Tour of Dresden, Germany

Today we enjoy our Dresden excursion and tour. Our excursion, like all events and tours is included, but should you wish, you are welcome to skip it and spend the day touring Prague. The former Eastern German city of Dresden on the River Elbe, is a thriving city as part of reunited Germany. it is perhaps best known for the massive firebombing that destroyed most of the city in the last months of World War II. Our local guide will show us the restored glories of this Baroque city including the stupendous Frauenkirche, which lay in ruins from 1945 until its rebuilding following Reunification, the surrounding Altstadt, Baroque Theaterplatz, the Residenzschloss – seat of Saxon kings and home to a priceless jewel collection – and the pavilions and courtyards of the Zwinger buildings. On the Elbe's northern bank, Neustadt and neighboring Aussere Neustadt brim with life, and are home to several fascinating museums. Don't miss the view of the Altstadt from Neustadt's riverside meadows.
After a fascinating day, we return to Prague.

SUNDAY; Day 4: Travel through Bohemia & Vienna Tour

We take our leave of Prague, and head south into a rolling, romantic region of dense forests, medieval towns and hill-top castles. By early afternoon we will hve have crossed, on our sightseeing adventure, into Austria where will arrive in the great Imperial city of Vienna.
We'll enjoy our Vienna guided tour, the magnificent seat of the Hapsburg Empire, with its imposing Baroque palaces and cathedral. The world famous Hofburg Palace is home to the Spanish Riding School, the Vienna Boys' Choir, several museums and the Austrian President, while the Old Town (Innere Stadt) is a labyrinth of streets humming with the buzz of shops and cafés.

MONDAY; Day 5: Schonbrunn Palace & Mozart @ Vienna State Opera

This morning, we have our excursion to the Schönbrunn Palace. An Imperial summer home and one of Austria's greatest treasures, this magnificent building once echoed with the music of the young Mozart. In the show baking parlor of Café Residenz in Schönbrunn Palace, master pastry chefs show how a hand-pulled original Viennese apple strudel is made. Onlookers not only learn how this divine Viennese dessert is made but are also given the original Viennese Apple Strudel recipe to try out for themselves at home. The mouthwatering aromas that issue forth from the bakery make it hard to resist trying a piece of freshly baked apple strudel with coffee at one of the small tables in the imperial bakery.
This evening we will dress in our finest to enjoy dinner at the 1870 restaurant at the Grand Hotel Vienna, before continuing to the Golden Hall of the Musikverein (Vienna State Opera) to experiencing a live performance of the works of Mozart by an orchestra whose members are dressed in period costume.

TUESDAY; Day 6: Bratislava, Slovakia

We bid farewell to the Austrian capital, and cross into picturesque Slovakia, heading to its wonderful capital, Bratislava. Delightfully set on the River Danube, close to the point where Austria and Hungary converge, Bratislava is a cosmopolitan mix of Central European influences that boasts glorious Baroque palaces and some stunning churches. We enjoy a great tour of Bratislava with our local guide after which we continue our journey into Hungary and its glorious, Danubeside capital, Budapest.
We check into our hotel and explore Budapest before/after dinner.

WEDNESDAY; Day 7: Budapest tour, Danube cruise & folklore evening

Enjoy this morning's guided tour of Budapest, the "twin" city, set astride the river. The western half is Buda, an elegant hillside city of opulent buildings, while its eastern opposite is Pest, a bustling hive of museums, galleries, thermal baths, restaurants and bars. Discover the former's castle district, with its delightful medieval houses and the fascinating medieval frescoes of the Matyas Church, and soak up the spectacular views from Fishermen's Bastion. In Pest, the vast Gothic Parliament lining the river and the grandiose Heroes Square, with its imposing columns and statues, are just two of the highlights.
Later this afternoon, we'll enjoy our river cruise, while this evening, you'll join a folklore evening of traditional Hungarian music and food.

THURSDAY; Day 8: Budapest Departure

After breakfast, we will get our coach to the airport and check-in for our flights. Those leaving on our group flights from Boston will arrive back in the USA same day, Thursday evening.
Why Choose This Tour?
This tour is considered one on the most interesting, historic, beautifully and by many the ultimate, sightseeing tour agenda in central Europe.
As with all our sightseeing tours, it is truly "All Inclusive". Your only extra expense would be lunch if you choose, as all breakfasts, dinners, entrance fees, events and tours are included. There's no "up-sell", upgrades or hidden expenses whatsoever. If it's good and worth doing, we included it, as everyone's special on our tours!
The distance for our five country literary from Dresden to Budapest is less than 600 miles by highway!
Flexibility to do everything or pick and choose; Example, enjoy our optional but included excursion to historic Dresden, or skip and tour Prague for the day. Similarly for Vienna & Budapest, you can enjoy our included events and tours, or skip some and explore independently.
Like our past sightseeing tours, with have multiple guided tours by licensed expert guides, all included.
Amazing value at $2,295 for our land package, in select destination hotels with great meals, tours and events, all included.
Should your wish to get your own flights, you can easily join our tour in Prague. This gives you the option of extending your tour; pre, post or both!
While our agenda/literary is about the pre-arranged, included and scheduled events, there is plenty of time for exploring on your own or with the club, experiencing the local culture and sights, beyond our agenda.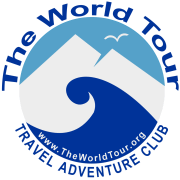 The World Tour
Travel Adventure Club

(888) 828-0096
Boston | New York

E-mail or Call 7 days a week!

Awesome International Club Trips Since 2000!
The World Tour - Travel Adventure Club, LLC
© Copyright 2023. All rights reserved.