European Alps Snow Sports Tour!
ITALY, FRANCE & SWITZERLAND
$1,895 W/Boston Flights
Early Sign-up Special, includes great Boston flights!

8+ Resorts, 3 Countries!
Saturday, February 15th - Sunday, February 23rd 2020
PACKAGE DETAILS:
Group round trip flights from Boston INCLUDED
Depart Boston on Saturday evening. Arrive in Aosta Italy via Geneva, Switzerland Sunday
Return from Italy via Geneva Sunday, arrive back in the USA same day, Sunday evening
Two great flight options:
• Lufthansa/Swiss: BOS 4:25pm - GVA 8:05am | GVA 1:10pm - BOS 6:35pm INCLUDED
• Delta E-Upgrade: BOS 7:35pm - GVA 11:00am | GVA 11:50am - BOS 6:55pm


Land only option availible, purchase your own flights, use points, frequent flyer miles, etc. and join us Sunday before noon, in Geneva Airport, Switzerland

Motor coach transfers from/to airport/hotel in Switzerland/Italy:
Travel From Geneva, Switzerland to France through the Mont Blanc tunnel into Italy and on to Aosta. Coach travel time is 2 hours approx.

7 nights lodging at the Norden Palace Hotel *** INCLUDED
Daily breakfast included
Great choice for dining around Aosta
Closest to the city center of Aosta

Hotel Upgrade: Hostellerie du Cheval Blanc ****
Nice breakfasts and great dinners included
800 meters away from the cableway to Pila
Two restaurants and a hotel bar
Free Wi-fi in all rooms
Wellness center with massage services, etc.
Swimming pool, Jacuzzi / Hot tub, two saunas, gym equip.

Walk or shuttle bus to local Pila cable car
Great sightseeing location next to major train and bus terminal
Walk to local transportation, shopping, nightlife, restaurants, etc.

BOOKING:
No hidden charges!
Price includes all local and airport taxes including airline fuel and currency exchange/surcharges as of April 2019 (increases are not expected).
Trip SWAG, Long sleeve trip shirt, luggage tags, group escort & more!
Get a lime green cooling performance crew m/w/y shirt with our dyed color trip logo by mail!
Price, per person, based on double occupancy.
A limited number of single rooms available.
View every detail of your account/reservation on-line any time.
A $495 deposit and $50 club membership, required to secure your spot.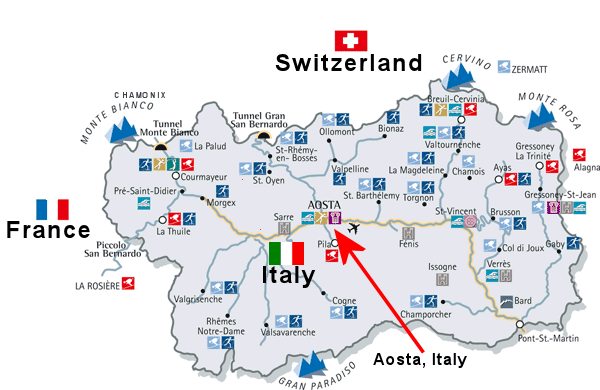 FAQ Luggage & Rentals:

Our group flights are on Lufthansa/Swiss (Star Alliance) OR Delta (SkyTeam). Normally one check-in, one carry-on (roller bag) and one personal item (laptop bag) are included in our group baggage allowance.
Many members bring their ski/board equipment within this allowance (combine or pack around ski/boards, as permitted, 50lbs or under per bag). Rentals are available at the local cable car (short walk or shuttle from our hotel), around $100 for the week.

About The Aosta Valley:

The Valle d' Aosta (Mapquest Zoom in & out) known as Rome of the Alps or little Rome, is a real paradise for winter sports, situated on the Swiss and French borders and surrounded by the most prestigious Alpine peaks of Mont Blanc, Monte Rosa, the Matterhorn and the Gran Paradiso, all over 4000 meters (13K feet) high. Because of its location, on the border of France and near Zermatt, Switzerland, skiers/boarders have the opportunity to ski/ride 3 different countries in one week! Your lift pass is valid in over 20 ski areas around the Aosta Valley and includes lots of extras.

Aosta Culture and History:

Aosta is truly a Roman town, you can tell by the remains of the monuments from the Roman times (the founders of Aosta). These remains include: The town walls, the Arch of Augustus/Arco di Augusto (25 B.C.), the Roman Amphitheatre and the Roman Forum. The architecture, the piazzas, the cafes — it's a great place to enjoy what this unique region has to offer. The center of town is a pedestrian area which makes it easy to see the sights. The Porta Pretoria is a gate worth seeing, the Cathedral is an 11th century Romanesque church on the outside and a Gothic church on the inside. The town hall is also worth a look (Palazzo del Municipeo), as it is medieval in style. The Museo dell'Accademia di Sant'Anselmo and the Alpine and Archaeological Museum are worth a visit too. Market day (not to be missed) in Aosta is Saturday.

What to expect:

There is a lot to do for the non-skier or casual skier/boarders. For the crazy skiers and boarders, we should be able to Ski/ride five ski areas, in four days, in three different countries (Italy, France & Switzerland), in sight of two of the world's most famous mountains (the Matterhorn and Mont Blanc). We can actually ski/ride nine areas in six days, in three countries! We will have to pay for transportation to some areas and purchase an International lift pass.
Also, for all interested, you can do the famous Vallée Blanche run - Mer De Glace, on every skier/boarders bucket list! An 11 mile glacier run starting from the new Mont Blanc Skyway in Italy and ending in Chamonix, France, where you come back from France via the Mont Blanc Tunnel!

Lift tickets & excursions:

Lift tickets are inexpensive as compared to the USA. Many options from $45 approx. per day.
We are currently arranging group excursions for both skiing/riding and sightseeing (Milan & Turin!).

Tentative Optional Snowsports Itinerary:

Mountains: Mont Blanc, Monte Rosa, Matterhorn & Gran Paradiso
Italy: Pila, Courmayeur, Cervinia, La Thuile & Champoluc
France: Chamonix & La Rosiere
Switzerland: Zermatt & Verbier (maybe)
Italy-France Glacier: Vallée Blanche 11 mile glacier run (Requires guides, supplied harness, beacons, etc.!)

Saturday:

Meet up with our group in Boston, Logan. Two flight options, 4:35 pm & 9:45 pm. Check in with our group and depart for Switzerland.

Sunday:

Travel From Geneva, Switzerland to France through the Mont Blanc tunnel to the Aosta valley, Italy and check into our hotel. Travel time is usually under 2 hours.
Welcome party and orientation meeting
Purchase lift passes
Walk around Aosta and check out the local sites from Roman times

Monday:

Pila our local resort and historically our favorite. Some choose to ski / ride Pila for most of the week on our last trip. Not going into detail on this resort, only to say it's a beautiful place with views of the imposing mountains of the Matterhorn, Monte Rosa and Mont Blanc, Pila is a quite hidden gem. It has relatively few queues and some great terrain which makes for good skiing and snowboarding.

Tuesday:

Ski / ride from La Thuile, Italy to La Rosiere, France!
Lunch in France and a visit to the local market (purchased a nice silver and pearl pendant there - Donal). Ski / ride back to La Thuile. They now have a nice lift in place of the miles long pama!
Pasta or foie gras? Chianti or chablis? Sunny slopes or powder pitch? You can have your cake and eat it too. Under the gaze of Mont Blanc and deep in the heart of the foodie-friendly Aosta Valley, skiing here serves up all of the gusto of Italy alongside a soupçon of Gallic refinement. La Thuile has been connected by lift to La Rosière in France since 1986, so you can swoosh and glide between languages, weather, and cuisines!

Wednesday:

Ski/Board all of Courmayeur, Italy (Mont Blanc). Spend time checking out Courmayeur village.
Courmayeur, at the foot of the Italian side of Mont Blanc is a ski resort very popular with visitors from around the world. Above the Val Veny (southwest), facing the Mont-Blanc, Courmayeur gives you absolutely spectacular scenery. With almost 20 lifts and 30 different runs, Courmayeur has many options for all levels. The off piste in the area gives some nice vertical and amazing views of the Mont Blanc massif not to mention great snow! The altitude of the resort goes from town level at 1224m up to 2755m at the top of the Cresta Arp lift. Love pizza, pasta, risotto, cappuccinos and all that is Italian? The mountain also has 20 something restaurants to choose from with fantastic Italian fare!

Thursday:

Ski/ride or visit the Mont Blanc Skyway (worth a visit just for the Skyway!) and the The Vallée Blanche Glacier, guides web site (Mer de Glace) run from Italy to Chamonix, France. This world famous glacier is a rite of passage for most skiers and snowboarders, an 11 mile glacier run starting in Italy and ending in France! Noreen did this when she was fourteen, so man up! This area is monitored by guides on radios, however at points you are more lightly to see the ski patrol/ rescue helicopters below you because of the high altitude descent. Have lunch in world famous Chamonix and then we travel back to Italy via the famous Mont Blanc tunnel.
Alternative - Ski / ride Chamonix, France for the day while checking out the beautiful village of Chamonix.

Friday:

We travel by motor coach to Cervinia, Italy and ski / ride Cervinia to interconnected Zermatt, Switzerland. A magnisfant area on the famous Matterhorn. Check out the ice grotto in the glacier and the nice mountain restaurants. Take your picture on the Italy / Swiss border. Bring your passport!

The extensive ski resort of Cervinia / Valtournenche with extensions over the border into Switzerland, known as the 'Queen of the Snow', this vast snowy area begins at 1,524m in Valtournenche, embraces Breuil-Cervinia – 2050m, rises up to Plateau Rosà at 3,488m, touches the 4,000-metre peak of Piccolo Cervino (Klein Matterhorn), and climbs to 4,478m, the top of the Matterhorn. Cervinia is world famous for its snow record and extensive slopes. There are 110kms of downhill runs in Cervinia, which interconnect with 40kms of runs in Valtournenche, making up a total piste distance of 150kms in the resort. The off-piste for the daring skier/rider is endless and will challenge the best of skiers/snow boarders. Good skiers/snow boarders, looking for more of a challenge should try the higher slopes above Cervinia, or take advantage of the international pass, which allows you to cross over the Swiss border to Zermatt, a route that provides some testing slopes and more off-piste. The Heli-skiing is top drawer and endless.

Saturday:

Ski / ride Monterosa and the resorts/towns of Champoluc, Ayas and Antagnod

The Monterosa's three valleys are comparable to the Trois Vallees in France in terms of the physical relationship of the main resorts, but they could hardly offer a more different experience. Much of the terrain remains undeveloped and perfect for off-piste skiing and snowboarding. For the most part, the skiing and snowboarding throughout Monterosa is on amazingly quiet pistes. Alagna is legendary for advanced off-piste itineraries, but the area as a whole has a lot to offer deep snow skiers at every level. At the other end of the spectrum, for intermediates the skiing is relaxed with plenty of friendly terrain and magnificent scenery. Intermediates and above should consider the Monterosa region as a whole rather than as three separate valleys. The on-piste skiing includes 17km of black runs, and the regions off-piste terrain is a magnet for experienced deep snow skiers and boarders from advanced to expert level. At the head of all three valleys, above the pistes, is the broad collection of peaks and glaciers that make up the Monterosa massif. Champoluc offers most of the gentle terrain and has plenty of sheltered runs and convenient meeting and eating points on the mountain. Gressoney also has plenty of terrain in its own right on both sides of the valley, with a lower region of tree lined runs reached directly from La Trinite, which is well linked to the rest of the areas.

Sunday:

Travel back to Geneva, Switzerland airport by coach and fly back to the USA!

Itinerary subject to change and improvement due to weather, local conditions, group size and transportation options.

Links:
The World Tour
(888) 828-0096