SCUBA TRIP: Ambergris Caye, Belize
Air - Transfers - Taxes - Hotel - Diving - Excursion & more!
5 days of boat diving / 7 nights DO Hotel accommodation
August 5-12 2006
$1,595 ($1,412 non-divers)
This trip is full.
Join our mailing list for trip announcements.
OUR TRIP SCUBA DIVE LOGS
Getting there:

Round trip air from Boston to Belize to Ambergris Caye
Transfers airport/hotel
Air & ground taxes included!
Depart Saturday Boston 6:55AM (AA1631)
Return Saturday Boston 9:10PM (AA1236)

Hotel:

7 nights in the Aqua Marina Suites
Double

occupancy

in a junior suite
Ocean front suite

upgrade

: $143 per person w/full kitchen with

ocean views

Diving:

5 days of 2 tank boat dives with local dive operator Aqua Dives
Snorkel excursion included: Snorkel stop @ shark ray alley, one of the seven best "animal dives" in the Caribbean!
Blue hole/Lighthouse Reef excursion upgrade: $120 for a 3 tank full day of diving the blue hole with breakfast, lunch, water, sodas & fruits.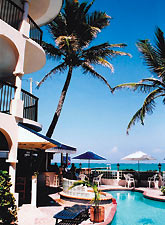 Offshore lies the second largest barrier reef in the world, extending over 185 miles; three major atolls each ringed by a coral perimeter of at least 50 miles, plus the world's largest and most renowned Blue Hole, first explored by Jacques Cousteau. Inside the barrier reef there are 450 emerald green cayes of which only a few are inhabited. The Barrier Reef is less than one mile (1.6 km) offshore from Ambergris Caye. Much of it is totally unexplored and all of it is easily accessible by boat. The reef is like a gigantic wall running parallel to the coast.
Aqua Marina Suites is centrally located in San Pedro Town on Ambergris Caye and is one of the islands newest luxury resorts. Relax and watch the sunrise over the largest barrier reef in the western hemisphere.
Ambergris Caye is the most popular attraction because of its superb diving & snorkeling conditions. Accessibility to the dive sites, such as Lighthouse Reef, Turneffe Islands, as well as many excellent sites right off Ambergris Caye, combined with excellent weather conditions, clear warm water and the variety of dive sites.
The World Tour
(888) 828-0096