South Africa Wildlife Safari
$1,995: All-Inclusive: 5 Star Resort • All Meals • Safaris!
$2,995*: With Optional Boston & NYC Group Flights
All-Inclusive Promotional Tour • June & September 2021
Call 888.828.0096 or email for Availibity

June 10-19 & September 16-25, 2021
Depart USA Thursday Morning - Arrive Resort Friday
Depart Africa Friday Evening - Return USA Saturday Evening


75+ Different Mammals. Big Five: Lion, Leopard, Rhino, Elephant & Buffalo. 300+ Bird Species, 270 Flowers & 100+ Different Trees. 98K+ Acre Malaria Free, Waterberg Mountains Reserve.

Resort & Agenda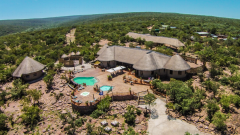 Current Dates: June 10-19 & September (9-18 Full) 16-25.
Please call (888) 828-0096 or email for availably.
7 nights in the 5* Rhino Lodge, Waterberg Mountains Reserve (Biosphere)
Private resort with twelve 400+ sq. ft. suites!
Balcony overlooking the reserve.
Beautiful unique local craft interior designs
Bath, shower, hairdryer, AC/Heat, Coffee/Tea/Mini-bar, Safe
All Meals: breakfast/lunch/dinner included - High culinary level
Wine tastings and recommended pairings for dinners
Wi-fi, Tea and coffee all day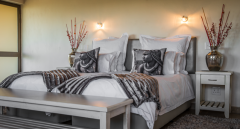 Early fall, dry season in South Africa & one of best time for viewing wildlife (Fall & Spring)!
South African Wildlife Guides (English) on all activities
Welcome reception & Orientation
Wildlife Talks
Guided Game Safari Drives including Big 5!
Guided trail walks through the Waterberg Mountains bush
Traditional African champagne brunch
Champagne and sunset at Leopard Rock
City tour Johannesburg/Soweto including apartheid museum visit
Visit to one of South Africa's largest wildlife museums, wine cellar and eco souvenir shop
Additional tours & safaris available; BUT above is a full schedule and included!
Flights AM BOS/NYC Departures
Great BA Flight Options: Boston / New York (AM Dep.) -> London -> Johannesburg
*Option to book with our group flights (Expected to be $1,000 or less when announced by BA Groups) or purchase our land package for $1,995 and book flights yourself.
Travel with our group from Boston/NYC on our BA flights, OR arrive on any flight before and depart after our group flights.
Final meet up and transfers are from the JNB / Tambo International airport and match our group flights.
Current Dates:
June 10-19 & September 16-25 . Please call (888) 828-0096 or email for availably.
Club Group BOSTON Flights:
BA 238 Thursday BOS-LHR 7:30A 7:05P Thursday
BA 057 Thursday LHR-JNB 9:25P 9:15A Friday

BA 056 Friday JNB-LHR 7:20P 5:30A Saturday
BA 213 Saturday LHR-BOS 11:15A 1:35P Saturday

Club Group NYC Flights:
BA 178 Thursday JFK-LHR 7:55A 7:45P Thursday
BA 057 Thursday LHR-JNB 9:25P 9:15A Friday

BA 056 Friday JNB-LHR 7:20P 5:30A Saturday
BA 117 Saturday LHR-JFK 08:25A 3:05P Saturday

Reservations/ Bookings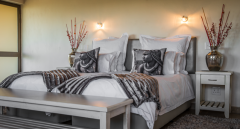 *Exclusive Promotional Tour; Open to qualified applicants (some restrictions) with prior +6-hour air travel.
No hidden charges - All Meals, Accommodation, Taxes, Entrance Fees & Tours Above INCLUDED!
Price includes all local and airport taxes on group air reservations (Boston & NYC.)
Trip SWAG, Long sleeve trip shirt, luggage tags, group escort & more!
Price, per person, based on double occupancy.
View every detail of your account/reservation on-line any time.
A $495 deposit and $50 2021 club membership, required to secure your spot.
Call 888.828.0096 or email any time (7 days) for more details
Why Choose This Safari?
We've been looking for Safari trips for years. In 2019 we were presented with this amazing opportunity through our European club connections. This is an exceedingly popular Safari, a club & group favorite, typically sold out more than a year in advance. We quickly seized this opportunity for our club members, and within thirty days of taking deposits the initial trip (Sep. 10-19) was full. We booked future 2021 weeks due to continual requests from our members!
PLEASE NOTE: This is a promotional tour for resort safaris in northern South Africa. Some restrictions, such as prior international travel required. There is no solicitation what-so-ever, it's all good if you qualify and can make it! Your only commitment is to enjoy yourself and let others know about your amazing, wonderful experience.
Price: the cost of our all-inclusive Safari is only $1,995 for the land package!
Best time for Safaris, early spring & fall, as it is "dry season" with pleasant weather, where the animals congregate around the waterholes and are not hidden in the shade.
Not a traveling Safari, with all widelife relativly local, so no switching hotels or distant travel required to enjoy this beautiful part of the world.
Nothing that can eat or attack you at our resort, so no special precautions required around our accommodation!
Avoids all the normal Safari pitfalls, all-inclusive with excellent flight options and no up-sell or "mandatory" options. You can also purchase your own flights and take our land package on these safaris.
Amazing five-star resort! We would have been happy with a lesser resort; however, this was the opportunity we were presented, at no additional cost. Many European groups just go here for the resort with the safaris secondary, however that's not us, were focused on the Safari experience!
400 Sq. ft. suites. This private five-star resort is limited to twelve beautiful, unique suites with local craft designs.
Five-star "high culinary level" meals, all included.
Great Safaris and an awesome agenda, all included!
Magnificent destination the Waterberg Mountain Reserve (northern South Africa).
Useful Links
The World Tour
Travel Adventure Club

(888) 828-0096
Boston | New York

E-mail or Call 7 days a week!

Awesome International Club Trips Since 2000!
The World Tour - Travel Adventure Club, LLC
© Copyright 2020. All rights reserved.