Bikini Atoll - Marshall Islands
Dive the Nuclear Test Fleet of Biki Atoll
This trip is full.
Join our mailing list for trip announcements.
$3,500: October 8 - 19, 2006
Local Flights - Transfers - Hotel - Meals - Taxes - Diving
Frequest Flyer Miles Possible!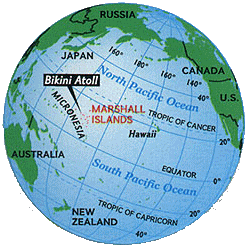 Only 11 Divers per Week allowed on Bikini (very few remain). Be one of them on Skip's October SCUBA Trip!
Conde Nast Traveler magazine - Bikini one of the "Ten Best" scuba diving destinations, there are not many places that could look more like the Garden of Eden...
Skin Diver magazine - Bikini Atoll one of the top five dive destinations in the world, "...dives of a lifetime."
National Geographic - declared Bikini as one on their "Around the World Destinations."

Join The World Tour on our trip to diving history . . . Bikini Atoll. This was the test site for US Nuclear weapons, tested against a large fleet of war ships you get to dive! Dive among wrecks like the USS Saratoga, USS Apogon, USS Anderson, USS Lamson and the HIJMS Nagato; the most hated vessel in the Japanese fleet because of it involvement in the bombing of Pearl Harbor. Dive all this in the beautifully clear, warm waters of the South Pacific.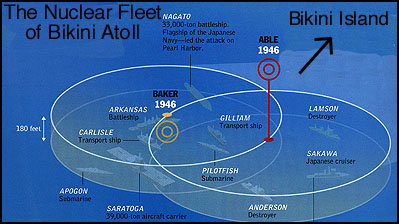 Our package includes:

One night hotel (DO) on 10/10/06 in Majuro, Marshall Islands
Flight from Majuro, Marshall Islands to Bikini Atoll 10/11/06 early am.
Full week of Diving on the Bikini Atoll with Bikini Atoll Divers
Full Accomodations on Bikini Island - double occupancy
All Meals on Bikini Islands
Flight from Bikini Atoll 10/18/06 return to Majuro Marshall Islands in time to catch Continental flight to Hawaii
Links:
This is a very special trip led by Skip. Contact us for more details.
The World Tour
(888) 828-0096