Portillo, Chile - Ski/Board Trip!
September 7th. to Sunday 16th. 2007
Flights from Boston • Transfers • Lift Tickets • Hotel • All Resort Meals
Club special $2,475
Package Details:

Round trip international air Boston (NY option), USA to Santiago, Chile

Depart Friday, September 7th.
Return Sunday, September 16th.
Optional six night extension (Los Andes & Santiago) return Saturday 22nd.

Motor coach transfers to/from airport/hotel
Hotel lodging in the Hotel Portillo
Lift pass for the duration of your stay
Welcome party / orientation meeting with appetizers and welcome drink
Price based on double occupancy standard room
Airport departure & security taxes and fuel surcharges not included
Standard single occupancy room only $100!
Lake view room upgrade $100
Club membership and $300 deposit required to reserve your spot.




Six night extension option $600!: <--- Very special club rate!

3 nights at the Termas del Corazon by los Andes

Los Andes is located midway between Santiago and Portillo.
Three nights at the Termas del Corazon hot springs spa resort
Breakfast and dinner daily included.
Relax in the spa and hot springs
Chilean Independence Day - party!
Optional wine tasting excursion to the famous San Estaban vineyard
Optional Snowcat ski/board excursion



3 nights in Santiago

3 nights in the luxurious Grand Hyatt hotel
Hotel features a spa; first-class service and all rooms are large (nearly 600 sq feet).
Visit the sights of Santiago
Wine tasting at the nearby Concho y Toro vineyard.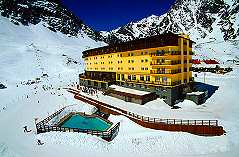 Chile, South America has opposite seasons to ours (our summer is their winter) and Portillo, Chile offers an excellent opportunity for an out-of-season snow vacation! Few ski resort hotels boast a more magnificent view than the Hotel Portillo. The hotel is located on the edge of Inca Lake and surrounded by the towering, rugged Andes. One of the worlds most famous ski hotels, it is completely self-contained with the full spectrum of resort services, thus no car is needed as your room is only an elevator ride away from the ski slopes, the dining room and all facilities.
Portillo, Chile is ranked as one of the top 10 ski resorts in the world by Ski Magazine, Warren Miller Entertainment and the Travel Channel. The food is incredible, the atmosphere friendly and international, and with internet, fitness room, heated pool, sauna, aerobics, movies, live music, piano bar, and a discotec, you will be left wondering why there are only 24 hours in a day.
The World Tour
(888) 828-0096